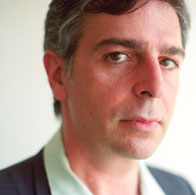 One of Canada's most provocative and in-demand directors, Jerry Ciccoritti has directed feature films, television movies, and mini-series, and garnered accolades in all mediums over the course of his career. His features have consistently been invited to film festivals throughout the world and, for television, he has been awarded a Gemini for Best Film, seven Geminis for Best Director, two Directors Guild of Canada Awards and a Genie nomination for Best Adapted Screenplay.

A second-generation Italian-Canadian, Ciccoritti has always made telling Canadian stories, particularly stories that reflect issues of the immigrant experience in Canada, a career priority. He has directed biographies of some of our most influential and inspiring citizens, including the critically acclaimed Trudeau mini-series: with Trudeau, Ciccoritti made exciting and dynamic television about a Canadian for Canadians, and changed the face of home-grown television in the process. In the recent past he directed the adaptation of the beloved novel Lives of the Saints, recounting the personal story of an Italian family that immigrated to Canada; the harrowing true story of a woman's fight for justice in The Many Trials of One Jane Doe; a true account of the murder of Nancy Eaton; and, most recently for CBC, the emotional bio-pic Shania Twain: A Life in Eight Albums.

Ciccoritti first began working in film in his 20's, writing and directing low-budget indie horror films including Psycho Girls and Graveyard Shift I and II establishing himself as a genre cult figure.

Ciccoritti turned his hand to television in the early 90's, where he quickly earned critical acclaim and awards working on projects including The Hitchhiker, La Femme Nikita, CatWalk, Due South, and the groundbreaking mini-series Straight Up I and II. It was his work on television movies, however, that brought him the greatest degree of recognition. Ciccoritti was awarded Gemini Awards for Best Direction for Net Worth (1997), Chasing Cain I: Vows (2001), and for both Trudeau (2002) and The Many Trials of One Jane Doe (2003).

While honing his distinctive style in television, Ciccoritti continued making feature films such as the controversial, Paris, France (1993), a box-office hit and included in the collection "The 50 Most Erotic Films of All Time." His 1999 feature The Life Before This was selected for the Toronto and Berlin film festivals and earned Catherine O'Hara a Genie Award as Best Supporting Actress. Boy Meets Girl (1998), which also premiered at the Toronto Film Festival, was named Best Film at the Cologne Film Festival.

In 2004 Ciccoritti brought a very personal film, Blood, adapted from the stage play of the same name, to the Toronto International Film Festival. A highly experimental work that challenges notions of singular perception and truth, Blood became a festival favourite, won him a Genie nomination for Best Adapted Screenplay and, most recently won him a Director's Guild of Canada award nomination for Best Achievement in Direction for a feature film.

Alongside his nomination for Blood, Ciccoritti has also been nominated by the Directors Guild for Best Achievement in Direction in the TV movie/mini-series category, for Lives of the Saints. It is the first time Ciccoritti has been nominated for television and feature film simultaneously; a very fitting acknowledgement for a man who has worked so fluidly in both mediums.

His most recent TV movies include CBC's Shania: a Life in Eight Chapters, and CTV's Murder in the Hamptons, which broadcast to record numbers in the US last July.